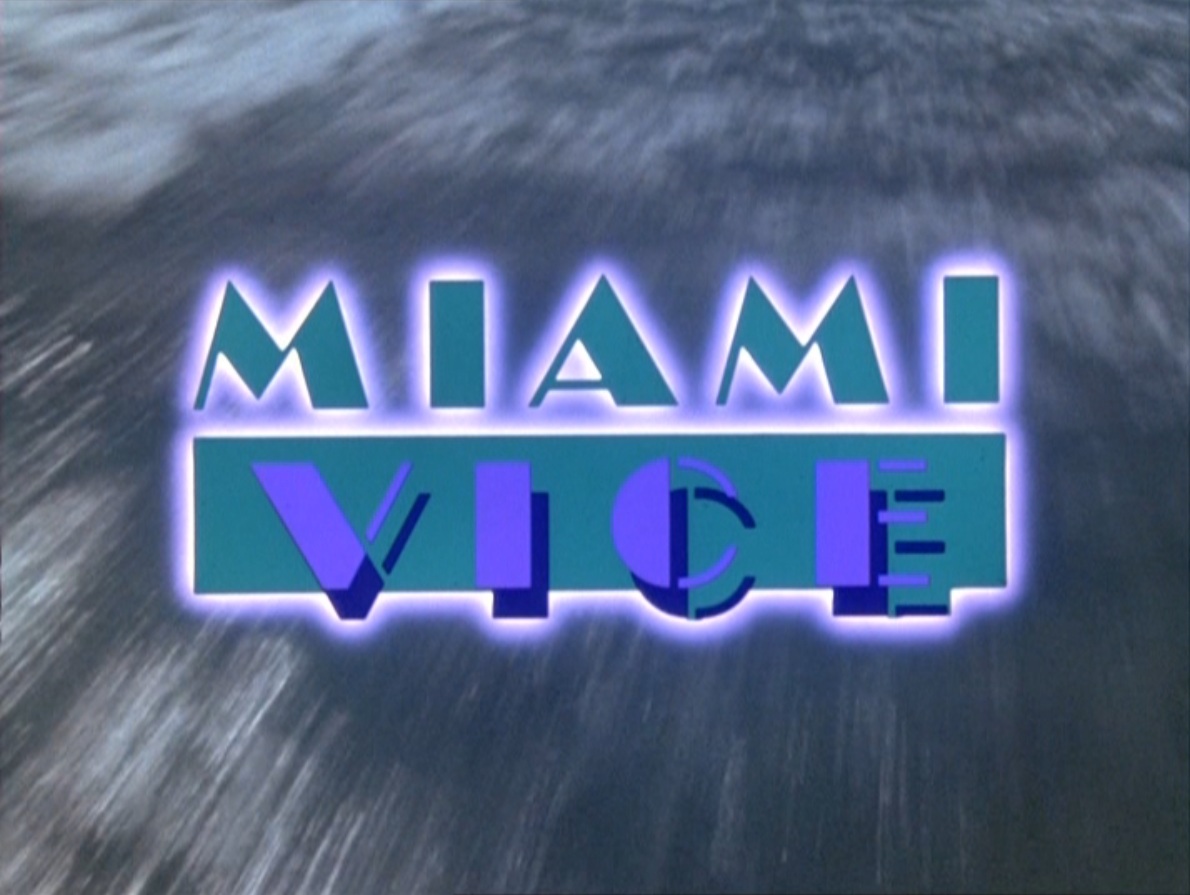 It's time for Return to the '80s to turn some focus on the small screen now. We cover plenty of music, and have recently gotten into reviewing some movies. Now it's time to watch some '80s TV. And what better show to kick this off than the ultimate '80s TV show – Miami Vice.
Miami Vice ran on NBC from 1984 to 1989. It is widely known that the head of NBC, Brandon Tartikoff, wrote a brainstorming memo that simply read "MTV cops". Miami Vice was born. What a concept! Everything from the '80s is well represented here – bright colors, fashion, awesome cars, tons of action, and great music.
I do not remember watching this too often during it's original run. It aired on Friday nights, so I must have always been out when it was on. I do remember watching the show occasionally, but I don't remember any exact details. So, I will be pretty much watching this show for the first time.
I was very interested in watching this show while watching and reviewing the Michael Mann produced film Band of the Hand, for the Forgotten Filmcast episode on which I appeared. The show is on Amazon Prime, but not for free. So, I bought the first couple of episodes. I just recently signed up with Netflix, and discovered that the entire Miami Vice series is free on Netflix! I was planning on buying all of the episodes, but now I'm all set. Anyway, let's get on with the show.
---
Where else to start than the beginning. Brother's Keeper was the pilot. The original air date was September 16, 1984. It was a two hour premiere.
Summary
I was surprised that the first scene ever of Miami Vice takes place in New York. Tubbs was staking out a drug dealer named Calderone, who had killed a cop. The show started off with music and action right away. Tubbs gave chase, but Calderone got away.
Then we meet Sonny Crockett and his partner Eddie Rivera (played by Jimmy Smits). We don't see Jimmy Smits for very long though as he is killed by a car bomb.
I never knew Crockett had a son. Sonny goes to his son's birthday party, where we also meet his ex-wife, Caroline.
Tubbs is now in Miami, hunting down Calderone. He goes undercover (unknown to the Miami police) to try to get him, and pretends to be a drug dealer. The cops try to bust the deal, but Tubbs got away, and stole Crockett's speed boat. While Tubbs was speeding away in the water, Crockett hopped in a car, and gave chase along the river. The awesome chase ended with Crockett catching Tubbs, and each finding out the other was a cop. They end up finding out that they are both after the same drug dealer.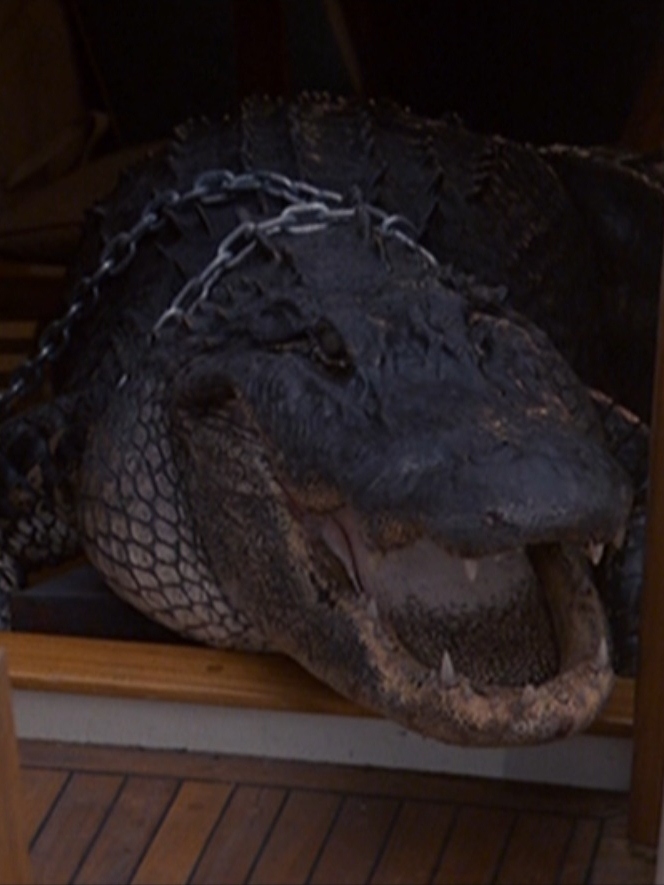 Man, Crockett and Tubbs really did not get along! The next morning, Tubbs found Crockett on Sonny's houseboat. They trade one punch each. Now that they got that out of their system, Tubbs asked if there was ice on board. Sonny told him it was down below. As soon as Tubbs got down the stairs, he came right back out screaming as we are introduced to Crockett's pet alligator, Elvis.
Crockett and Tubbs made a pretty good team. But, they always seemed a step or two behind Calderone. It turns out there is a leak "the size of the East River" in the department. So, the duo are hunting down the dangerous drug dealer and trying to find the leak. Crockett also finds out who Tubbs really is. He had been posing as his brother Raphael. Raphael was the cop that Calderone killed. Our Tubbs is Ricardo Tubbs, a street cop. Crockett didn't like how Tubbs was out for vengenace, but they kept on the case anyway.
The leak is found. And on the way to the final showdown, we hear Phil Collins' "In the Air Tonight" as Crockett and Tubbs are driving. Classic!
The shootout was pretty cool, and the showdown between Tubbs and Calderone was intense. At the end of the episode, Crockett asked Tubbs if he was going back to New York. Tubbs
Music
One of the key elements of this show is the music. I don't know if all the episodes are like this, but there were not 1 or 2 songs, but there were several. Here are the songs that were featured in this episode:
"Miss You" by The Rolling Stones
"Body Talk" by The Deele
"Somebody's Watching Me" by Rockwell
"Girls Just Wanna Have Fun" by Cyndi Lauper
"All Night Long (All Night)" by Lionel Richie
"In the Air Tonight" by Phil Collins
Final Thoughts
I thought this was a great introduction to the show. We got to meet several key characters. Edward James Olmos was not in this episode. There was a different captain in this one. There was a great combination of action, drama, and humor in this episode. And as we just saw, there was some top rate music as well. I am really looking forward to watching this entire series.
Are there any Miami Vice fans out here? Feel free to leave your thoughts and memories, about the show, here. And I would love it if any hardcore fans have any fun facts or trivia you would like to share.
Follow @returntothe80s