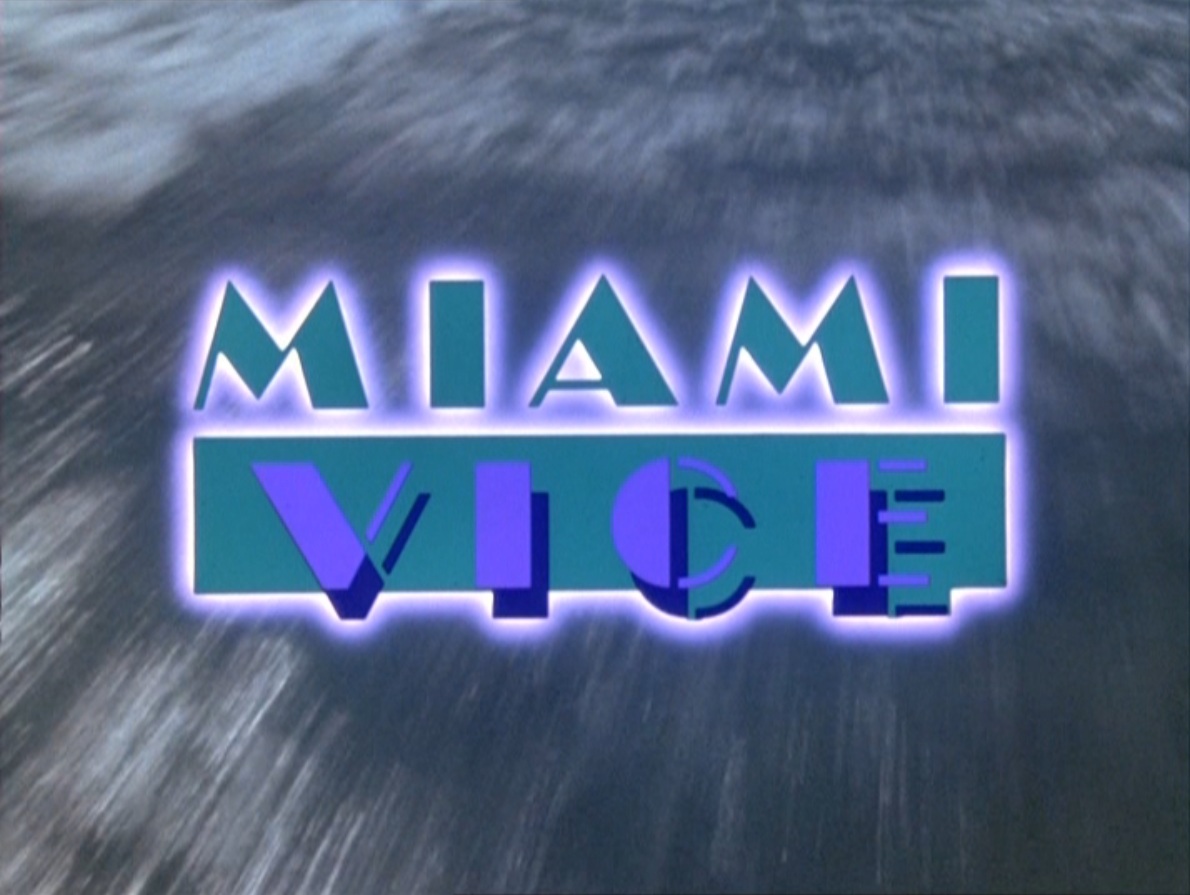 It's Friday! So, you know what that means. Time for some Miami Vice! I've been looking forward to this all week! This is really making me feel like I am Returning to the '80s. I am really trying to avoid the current trend of binge-watching. It is actually really fun just taking my time and soaking it all in. Now, let's get to the conclusion of "Calderone's Return"
---
Summary
This episode was directed by Paul Michael Glaser. You know him as Starsky from the '70s television show, Starsky and Hutch. He also directed the movie that prompted me to begin this series – Band of the Hand. This episode was written by Alfonse Ruggiero, Jr. and Joel Surnow. The original air date for this episode was October 26, 1984.
When last we left, Crockett and Tubbs were ready to go to the Bahamas to get Calderone. One small problem. There are many islands in the Bahamas, so they need to find out exactly which island. So we open with Tubbs and Crockett interrogating Mendez (who they caught last episode). They finally find out from Mendez, that the hit man, from the last episode, still had the other half of his pay coming to him. He was supposed to have a meetup on St. Andrews Island. So, away we go. We see Crockett and Tubbs on a speedboat en route to
the Bahamas. There is basically a music video, set to "Voices" by Russ Ballard. In this video, we see all the events that led to this moment. Normally, these days, before an episode, somebody says "Previously on xxx", and we see the important stuff. I love the Miami Vice approach, in this episode, so much better.

Upon their arrival, Crockett and Tubbs meet Jimbo at a tiki bar at the place they are staying at. Jimbo is played by this week's biggest name guest star, Sam McMurray. You may not recognize the name, but you have seen him before. He looks a lot like Jason Segal in this episode. But, I was going crazy trying to remember where I had seen him before. He has guest starred on many, many shows, including Hill Street Blues, Moonlighting, 21 Jump Street, Head of the Class, and Empty Nest. Then I finally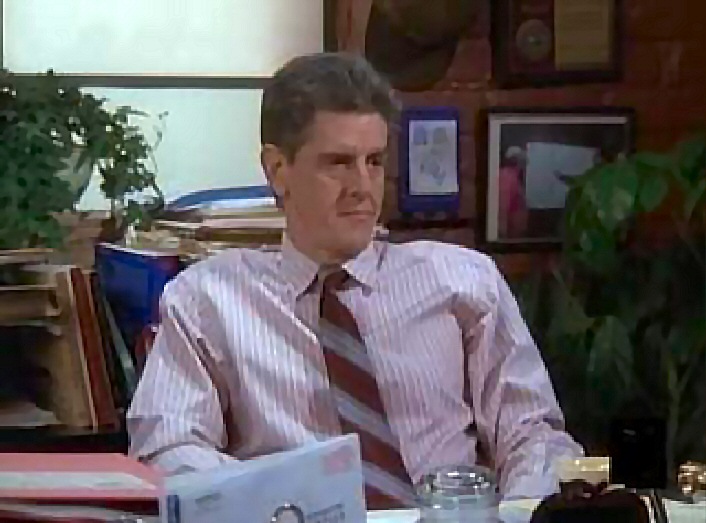 realized who he was. He played Doug's (Kevin James) boss, O'Boyle. Crockett shows him a picture of a woman that has been seen with Calderone, and asks who she is. Jimbo recognizes her. Her name is Angelina,and he says that she's a nice person. It's a small island, so they should be able to find her.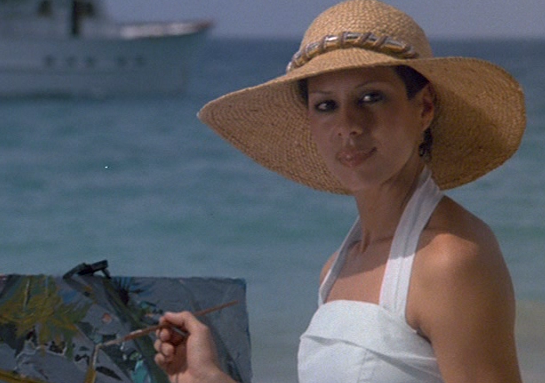 Crockett meets with the local police chief. He says that Calderone isn't on his island. Ya, I believe him! Meanwhile, Tubbs finds Angelina (Phanie Napoli). She's on a beach painting. You can see the sparks begin to fly. She leaves to go on a yacht. Crockett catches up with Tubbs, and they see through binoculars, that Calderone is on the yacht.
Crockett, pretending he is the hit man, meets up with one of Calderone's men. Crockett demands more money and that Calderone meet him face-to-face.
And we have our obligatory car chase. And it was a good one! Instead of Crockett and Tubbs doing the chasing, they were the chasees.
After they manage to get away, the police chief sees Crockett and Tubbs, and apologizes. He said that Calderone's boat was refueling at the island, and he left and could be anywhere. Crockett knows that something's not right, since Calderone obviously knows who they are, and the only other person on the island, who knew who they were, was the police chief.
Last episode, Crockett hooked up with his (soon to be ex?) wife. This episode, Tubbs gets himself some nookie with Angelina. During their pillow talk, Tubbs sees a picture of Angelina with Calderone. He says "Isn't he too old for you". But, it turns out that Calderone is her father. Duh-duh-duh. There's going to be a masquerade party tonight, so maybe she can introduce Tubbs to him there.
Both Tubbs and Crockett go to the the masquerade beach party. They see Angelina, so Tubbs goes to her and they dance. Then Tubbs goes to get them drinks and is confronted by a thug. Tubbs takes care of business with a beer bottle. Then he sees Crockett being led away on a boat by gunpoint.
The next time we know Tubbs is in a screaming match with Angelina as he tells her all about her father. She didn't believe him, until he tells her that her father killed his brother.
Crockett is at Calderone's hideout, with Calderone and some of his men. Oh, and whaddya know!?! The police chief was there too puffing away on a cigarette (or more likely, ganja). One of Calderone's thugs comes in and says that Tubbs got away. Again, this guy gets clocked with a beer bottle. Calderone orders to have this guy killed, and Angelina walks in. She said that somebody's been telling her things about him. He asks who. Then
Tubbs makes his appearance with a gun, and says "me". I smell a Miami Vice shootout! And they don't disappoint! I thought for sure that Angelina was going to get caught in the crossfire, but she didn't. But she freaks out as Crockett guns down her father.
As we close out, Angelina leaves Tubbs. Then we get a closing video to the sound of Tina Turner's "What's Love Got to Do with It", and we get a montage of events from this episode blended in with Crockett and Tubbs back in the speedboat, heading back home. This song was still pretty new at the time that this episode originally aired.
Music
There were only two songs featured in this episode. One was towards the beginning of the episode, and the other closed out the show.
"Voices" by Russ Ballard
"What's Love Got to Do with It" by Tina Turner
Final Thoughts
I hate to sound like a broken record, but this episode was great too. There didn't seem to be as much action as in other episodes. But, there was plenty of action anyway. And this episode went by really fast. I was missing all the side characters from the vice squad this week. And I got teased because Edward James Olmos' name was in the opening credits. But, he was not on this episode. Maybe next one? Ah, something to look forward to!
---
Once again, I would love to hear your thoughts on this episode, or on Miami Vice in general.
Follow @returntothe80s