Happy Back to the Future Day!!!!
Back to the Future
If my calculations are correct, when this baby hits 88 miles per hour… you're gonna see some serious shit.
Marty McFly: Hey, Doc, we better back up. We don't have enough road to get up to 88.
Dr. Emmett Brown: Roads? Where we're going, we don't need roads.
---
Back to the Future Part II
Marty McFly: Where are we? When are we?
Doc: We're descending toward Hill Valley, California, at 4:29 pm, on Wednesday, October 21st, 2015.
Marty McFly: 2015? You mean we're in the future?
Jennifer: Future? Marty, what do you mean? How can we be in the future?
Marty McFly: Uh, Jennifer, um, I don't know how to tell you this, but I… you're in a time machine.
Jennifer: And this is the year '2015'?
Doc: October 21st, 2015.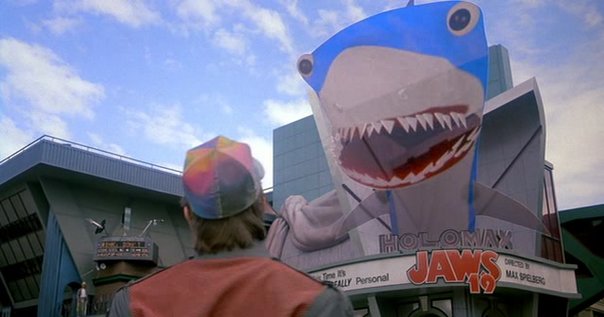 Shark still looks fake.
Back to the Future Part III
Buford "Mad Dog" Tannen: What's your name, dude?
Marty McFly: Uh, Mar- Eastwood. Clint Eastwood.
Buford "Mad Dog" Tannen: What kind of stupid name is that?
[in a Drive-In, in 1955. The theater screen shows a still picture of a group of Native Americans riding horse in a desert]
Young Doc: All you have to do is drive the time vehicle directly toward that screen accelerating to 88 miles an hour.
Marty McFly: Wait a minute, Doc. If I drive straight towards the screen, I'm gonna crash into those Indians.
Young Doc: Marty, you're not thinking fourth dimensionally. You'll instantly be transported back into 1885, and those Indians won't even be there.
Marty McFly: Right.
Young Doc: Well, good luck for both our sakes. See you in the future.
Marty McFly: You mean the past?
Young Doc: Exactly!
[after a few minutes, when he uses the DeLorean and lands in 1885… an actual group of Native Americans is literally running towards his location]
Marty McFly: Uhhhhh… Indians!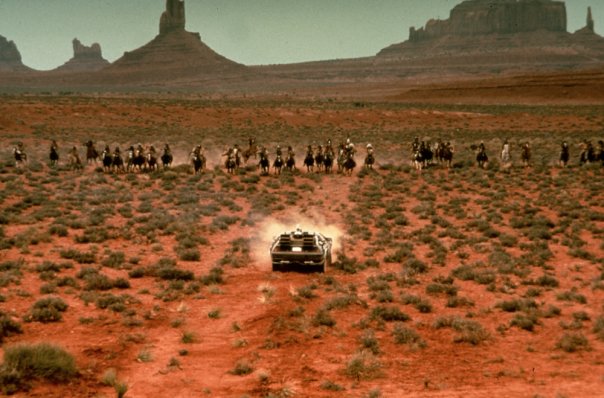 Follow @returntothe80s