Welcome to the latest 80s Crossover Event! This month, The 80s League is tackling 80s Movie Villains. Look for a Return to the 80s podcast episode on this topic, coming soon. There are so many awesome villains to choose from, so I would highly recommend these other blogs and podcasts, and see who they choose.
And in addition to our podcast, Robert wrote this article on his favorite '80s movie villains. We would love to hear who yours are. Please email us at returnto80s@gmail.com, or feel free to comment below. We'd love to hear from you. Now, make like a tree and get out of here, and check out Robert's awesome article.
---
In my high school English classes we read a ton. In different grades, different texts are read including short stories, plays, poems, and novels. While all of these have different difficulty and interest levels, they have one important element in common: conflict. A story does not exist without conflict. Take this for instance: Two friends are sitting in the cafeteria eating lunch. Friend A has a baloney sandwich and is munching away. Friend B has a ham and cheese sandwich and is also silently munching away. No conflict, no story. Let's try this: now Friend A, who is silently eating that baloney sandwich, looks down at that sandwich and sees way too much mustard on it. Friend A slowly peels the sandwich apart, stands, and smacks Friend B in the face with it. Now we have conflict – and a story.
Clearly, conflict is a necessary element in every story and one of the simplest conflicts to manufacture is good vs. evil. So many movies from the '80s used this conflict to intrigue us, manipulate us, enrage us. Think back to all those "bad guys" from those classic '80s films. That is just what I am doing here. I have decided to present my list of most hated '80s villains, all terrestrial – no aliens or monsters – just humans, dastardly, ugly, conniving, horrible humans.
William Zabka and Martin Kove – Johnny Lawrence and John Kreece from The Karate Kid
I first saw The Karate Kid upon it's release in 1984. The only actor I recognized was Pat Morita who played Daniel LaRusso's karate instructor Mr. Miyagi. The protagonist, LaRusso is new to California and goes to a new high school where he knows no one. He is the natural underdog who becomes an easy target for the Cobra Kai, a local karate dojo. Two members of the Cobra Kai, instructor John Kreece and his star pupil, Johnny Lawrence, take it upon themselves to make a living hell for poor Daniel. Johnny and his boys continually jump a helpless LaRusso who receives no sympathy from dojo leader Kreece. Johnny continually beats the tar out of Daniel with the full support of Kreece who does not believe in any sort of mercy for anyone. Kreece's ultimate nastiness shines through during the finals of the All Valley Karate Championship, LaRusso picks up an injury to his knee in the semifinals (another Cobra Kai member delivers an illegal blow, at the behest of Kreece). During the final round LaRusso is pitted against Johnny. He is clearly bothered by the knee injury and Johnny can see his weakness. After dropping a few points, LaRusso is able to claw back a bit and get a point himself. Johnny gets a bloody nose and, during the time out, talks to Kreece. It is during this talk the Kreece delivers his horrible line, "Sweep the leg. . . You have a problem with that? No mercy." Of course, Johnny does it. Even though he knew it was wrong, he does it. Both are nasty to the core.
Thomas Wilson – Biff Tannen from Back to the Future
A year later I saw Back to the Future in theaters and and other pretty nasty character reared his ugly head – Biff Tannen. Biff is a sarcastic bully who is used to getting what he wants all of the time. He picks on the hero Marty McFly, accosts Lorraine, and makes George McFly do his homework. He verbally abuses everyone around him. From calling George an "Irish bug" to labeling Marty a "butthead" (in the same scene), Biff is an insufferable jerk. Perhaps his ultimate barbarous nature comes out during the film's climax. Biff spots Lorraine in a car by herself. Biff takes it upon himself to attack Lorraine, saying that she knows she wants it. There is not one redeeming quality of Biff in the entire film. How happy were we all when George punched his lights out?
Anne Ramsey, Robert Davi, and Joe Pantoliano – The Fratellis from The Goonies
Same year (1985), different bad guy, or bad guys. In The Goonies, the evil doers were a sweet, loving family – the Fratellis. The Fratellis are a family of criminals who are hiding out in an abandoned restaurant. Unfortunately, the young, adventurous kids, looking for a way to financially save their home, encounter this nasty clan. From housing a dead guy in the freezer to threatening Chunk with putting his hand into a blender, the Fratellis know no boundaries. They let their greed get the best of them and follow the Goonies as they trace One Eyed Willy's lost treasure. Perhaps one of the worst things this detestable family does is chain one of their very own in the basement, brother Sloth. Sloth is sweet, loving, albeit physically deformed man who is left alone in the basement, chained to his chair with a TV all that keeps him company. Thefts, murder, lies, and abject cruelty is all this family knows. Horrible.
Alan Rickman – Hans Gruber from Die Hard
One of my good college buddies was a foreign student from Chile. He loved 1988's release Die Hard – this is not unusual. What is strange, though, is that he loved Hans Gruber, the bad guy! Whenever he saw me, he would look at me and utter in (in a Spanish influenced German accent, "We must not alter the plan." It always made me crack up, but I could have absolutely no sympathy for this nasty terrorist. Gruber and his minions attack and take over a high rise building in Nakotomi Plaza. While Gruber feigns the attack as a protest against the company president, Joseph Takagi, his real motivation is greed. Gruber wants to $640 million in bonds that are kept in the building's vault. So much for ideals. Gruber does his best to, not only steal this money, but knock off a few innocent workers and make life extremely difficult for hero, John McClane. A scene that perfectly shows Gruber calm maniacal nature takes place with company president Takagi sitting right in front of him. With a gun on the table, Gruber insidiously says, "I'm going to count to three. . . One. . .Two". . . [Takagi pleads ignorance] Three [Gruber calmly puts a bullet through Takagi's head]." Yes, Hans Gruber is calm and always in control; he is intelligent and quick witted, as well. Unfortunately, he uses these talents in a malicious manner for self serving reasons. His self righteous confidence is nearly as bad as his villainous actions.
Steven Berkoff – Victor Maitland from Beverly Hills Cop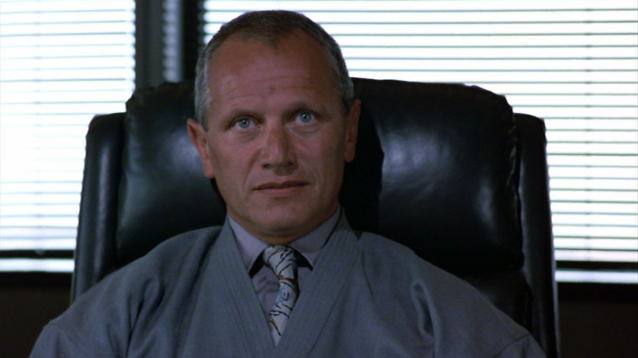 As I ran through '80s movies and tried to think of all the bad guys, I thought my list was complete. Then, while I was listening to an American Top 40 countdown from 1985, Harold Faltermeyer's "Axel F" came on. Hearing this song brought me back to the hilarious movie and it's nasty denizen, Victor Maitland. Maitland is a high end art dealer in Beverly Hills who has had his men assassinate hero Axel Foley's best friend Mikey Tandino. Foley wants to solve his friend's brutal murder and traces the bonds Mikey stole to Beverly Hills and Victor Maitland. Maitland is another one of those calm villains who has his henchmen do most of his dirty work. He is sneaky and gets past most laws through bribery, threats, and outright intimidation. His calm passivity is just a mask for his true ruthless nature. He is an honest to goodness devilish character who most should not mess with.
All five of these character are horrible, dirty, lowdown, despicable, diabolical, heinous (the synonyms could go on for a while) people. They have no redeeming qualities and we are all happy when they lose. Oh yes, they do lose. In true archetypal fashion, in the conflict between good and evil – good wins, always. After all of these movies we are left with true relief as Daniel LaRusso beats Johnny at his own game; as George McFly lays out Biff; as the Fratellis are outwitted by the Goonies; as John McClane watches Gruber fall from the top of Nakotomi Plaza; and as Axel Foley blows Victor Maitland away. Our heroes always defeat these villains, reassuring us that, although the world can be a harsh, chaotic place, there is room for good to prosper.
Follow @returntothe80s